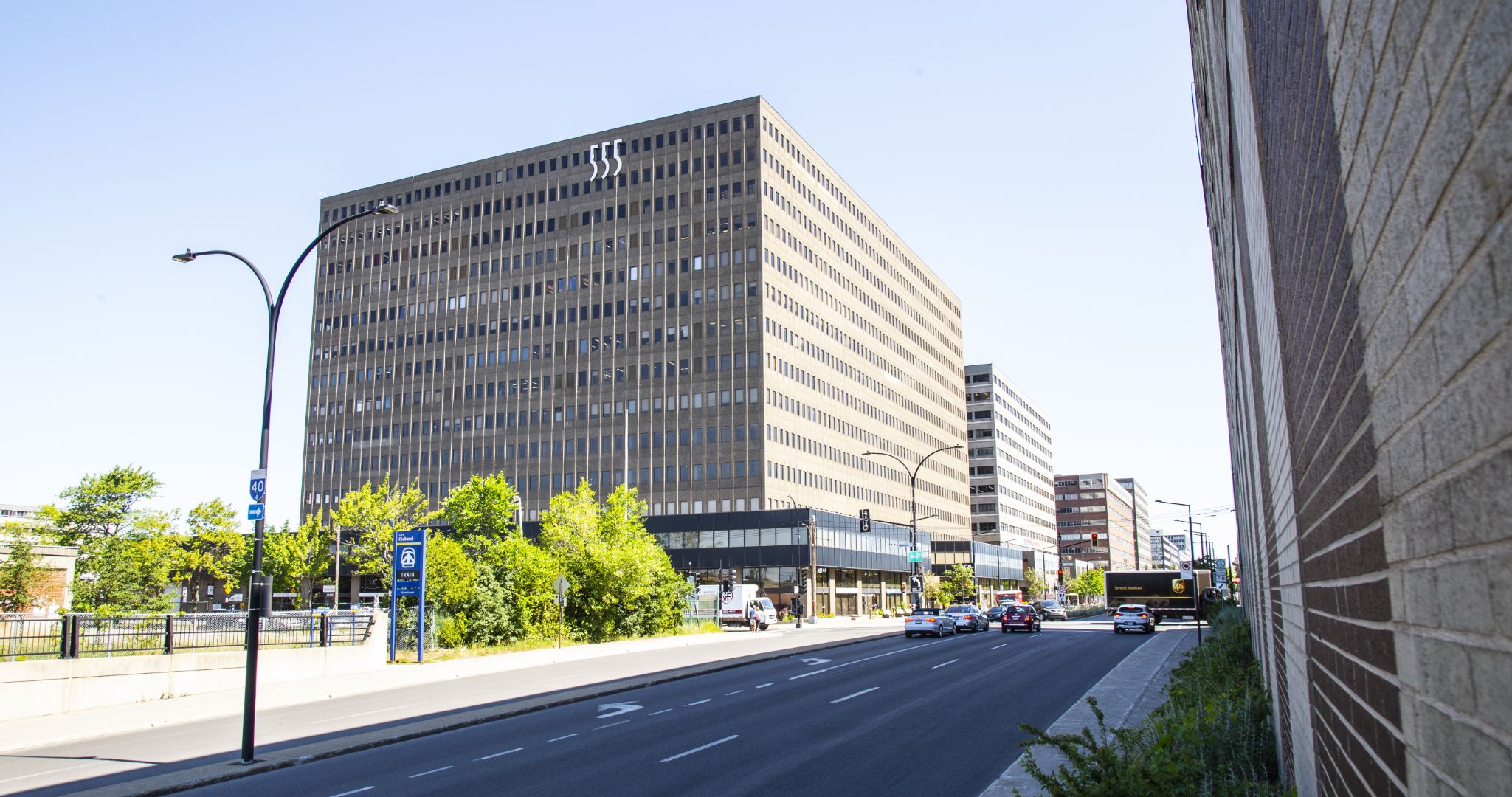 555 Midtown is owned by a private Montréal-based real estate investment company named Marcarko Ltd., in existence since 1982. Symbol for progress and development in the heart of Montréal's Midtown, 555 Midtown offers first-class office space and services. The building is a prime, one of a kind property that meets the highest business standards by offering a prized location, sought-after amenities, and strong development potential.
Midtown's quintessential philosophy and single most important driving force has always been its hands-on approach, providing on-site personalized administration and management of its property. Guided by integrity, quality, innovation, and creativity, our goal is to always be the solution of choice to all our tenants from government agencies to public & private corporations. 555 Midtown imposes the utmost rigor on itself and adheres to the best practices in governance.
We are and will always be committed to fulfilling the needs and aspirations of all our tenants, assisting them in realizing their personal vision of their ideal work environment.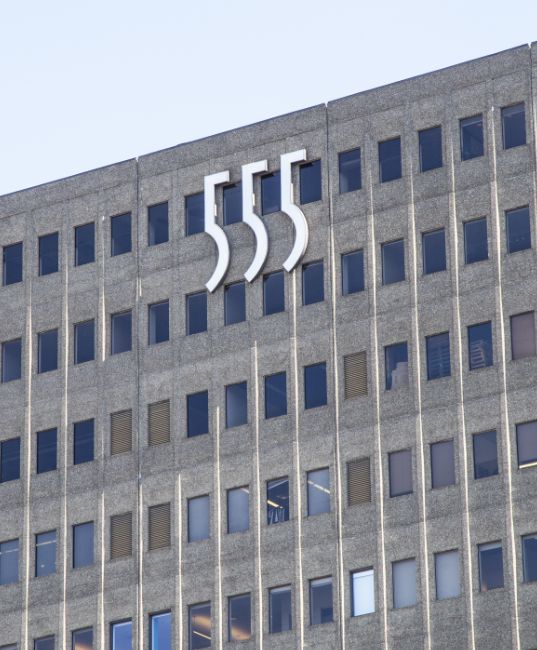 With 15 floors and over a million square feet of rentable office space, 555 Midtown is home to some of Montréal's most successful companies. Its wealth of services and convenient location has made it a prime location for businesses of all sectors ranging from design to internet and technology to insurance and financial services. 555 Midtown offers common areas of superior quality, an impressive lobby open on two floors, newly renovated elevator lobbies, and washrooms with superior quality fixtures.
Elegant and sophisticated, 555 Midtown offers all the features coveted by tenants, but rarely offered in the premium office rental market in Montréal: a unique combination of generously sized interiors and a wide range of creatively designed indoor and outdoor amenities to enhance your exceptional lifestyle.
The central district houses over 2500 companies with more than 28,000 employees. Boasting an eco-friendly design and green spaces, as well as affordable housing and easy access, the district is also home to many entrepreneurs, designers and visionaries, as well as people in the finance and technology industries and service industry, all of whom shape the creative and business landscape of the city.
Discover why our tenants choose to make 555 midtown their home
A centralized, convenient location
At the intersection of Highway 15 and Highway 40
Close to the airport (YUL)
Easy access via public bus, Metro and train
Designed for growth
60,000 sq. ft. per floor
17 interior loading dock and 7 lifts
Modern esthetic
Beautiful two-story entrance with mezzanine and travertine walls
Newly renovated washrooms, elevators and common areas
Eco-Friendly sustainable initiatives
Heating, cooling and lighting systems with the latest technology in centralized energy control
Recycling Initiative
Bicycle parking facilities
Continuous development and implementation of environmental procedures with partners and suppliers to make spaces more sustainable
CEO of Midtown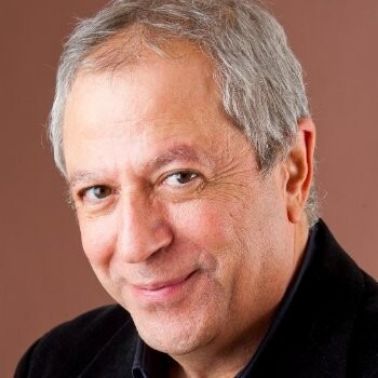 Eyal Cohen
President & Chief Executive Manager
Eyal Cohen is the President and Chief Executive Manager of Marcarko Ltd., the on-site real estate management company of 555 Midtown. He is responsible for the oversight of this building of more than one million square feet, including management of the day to day operations, implementation of development strategies, leasing, and the coordination and supervision of renovation and construction projects on the property. With over 32 years of experience invested in the growth and development of the property, Mr. Cohen is deeply committed to the success of the building and its tenants.
As a visionary leader, Mr. Cohen is dedicated to making 555 Midtown a leader in sustainability. He has established a strong environmental politic to reducing the building's carbon footprint and is working towards the goal of zero net carbon emissions by 2040. He understands the impact of climate change and is taking decisive action to ensure a more sustainable future for the community and the world at large.
Under Mr. Cohen's leadership, 555 Midtown has implemented a "Zero Waste to Landfill" service, which ensures that all waste generated in the building is either recycled, composted, or converted to energy through anaerobic digestion. This way, the building is diverting waste from landfills, reducing greenhouse gas emissions, and conserving valuable resources.
In addition to his efforts to conserve energy, promote sustainable practices among the building's tenants and reduce waste through comprehensive waste reduction, reuse, and recycling programs, Mr. Cohen is upgrading the building's heating, ventilation, and air-conditioning (HVAC) systems to more energy-efficient models.
Mr. Cohen has also shown exceptional leadership in guiding 555 Midtown through economic downturns to not only maintain but enhance the building's reputation for excellence among all the commercial buildings in Montréal. He has spearheaded numerous initiatives in the marketing, promotion, and leasing strategies of 555 Midtown, contributing to the building's success and reputation.
His commitment, integrity, and knowledge of the real estate industry are well-known in the community. He is highly regarded and has been called upon to participate in several development projects coordinated by public and private interest groups. He has brought his expertise to several organizations, including the Regroupement Chabanel and Promomode Corporation, where he served as president. Currently, he is the VP at the SDC district central, bringing his wealth of knowledge and experience to the role.
Eyal Cohen is a graduate in electronic engineering of aviation. He was a candidate for Counsellor of the City of Montréal and is deeply engaged in his community. He is an active member of the Community Center of Saint-Laurent, where he served as President from 2005 to 2007. He is also part of the Shaar-Hessed Committee, which collects funds to assist the neediest in the community.
Mr. Cohen's dedication to 555 Midtown and its tenants is evident in the professional integrity and courtesy that is the hallmark of the building's reputation. He takes great satisfaction in knowing that every member of the organization is prepared to do what it takes to deliver on their promises. With his leadership, hard work, and commitment to a vision for the future, 555 Midtown will continue to thrive and make a positive impact on the environment and the community.
Mr. Cohen takes great satisfaction in knowing that every member of the organization is prepared to do what it takes to deliver on our promises. As he likes to say:
"There are no secrets to success. It is the result of building on foundations, hard work, and commitment to a vision for the future."